Sunday was a boring day at home and there was nothing much to say and last night I was going to post but we had some bad storms with tornado warnings so I had to shut my computer down. So here I am with my update on the past couple of days.
So yesterday Tally turned 14 months old. So one more month for her appt and shots. Ugh I hate appts where shots are involved. We were going to go out with my mom, shopping. That changed with the weather and I left her home with daddy. Made some run in trips to Target, Lowes, Albertsons, the library and Toys R Us. Mom wanted to stop by Gordmans for some shirts and I picked up a black photo box to alter for my Recipe Circle Journal, oh and I got a new purse also. ;)
Picked up bbq on the way home. It was yummy especially since I hadn't had lunch, just popcorn from Target which was to salty. So I started back to tracking my points for Weight Watchers, except for dinner I'm just guessing since it's a local restaurant it's a pain to figure points. I made myself a WeightLoss and Food Journal with Mindys "Christy Loveable" kit available at the Sweet Shoppe plus a few other digital things, if you want to know what just ask. Ok this isn't the greatest picture but you get the point!
So I set some small goals for myself. I have become very lazy when it comes to exercising and my elliptical kicks my booty! So I have started with 4 mins every day just like Holly had started, going up to 6 mins next week and so on. I am also trying to drink more water. I am journaling everynight, my thoughts on how the day went and what I ate. My main goal for this year is to lose 20 more lbs before we start trying to conceive baby #2 towards the end of the summer. I think that is a reachable goal if I stick to the plan for the next couple of months. I'm not trying to lose everything because that would be stupid considering I am looking at getting pregnant semi-soon. Ok enough about the weight loss journey.
I worked on 2 pages over the weekend but I haven't posted them to my galleries. Here they are...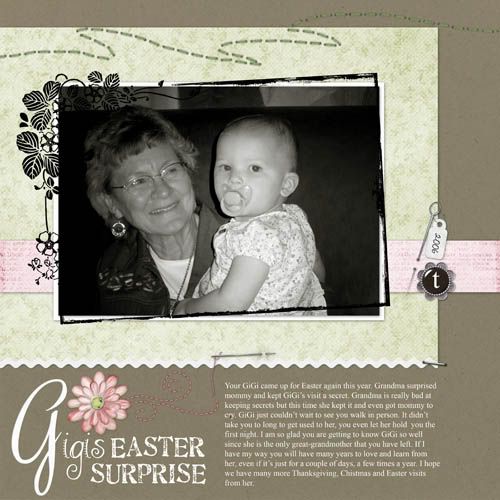 So here I am today being lazy. Doing Laundry and put one of those recipes from the recipe journal in the crockpot "Chicken & Wild Rice Soup" Thanks Jeanne for reminding me about it or we would be having canned soup instead. ;) Deciding how I'm going to decorate the photo box. Tally has a nice cold that started yesterday, still not sure if she is teething or actually sick. Please let it be teething. Now I'm off to start a new load of wash...