Hope everyones New Years was nice. We just stayed home this year and rented a couple of movies to watch. Nothing special other than quality time spent with my family. Matt and I did stay up and watch the ball drop though.
I've started back on Weight Watchers again. I've been slacking the past month or so. Good news is that the slacking didn't throw me off to much. I only gained back 2 lbs of the 15 I originally lost. So nothing I can't fix within a week or so. So the countdown has begun... again. LOL Looking towards losing about 30lbs by the summer, if not 45. I can do it. Just need to control myself. Matt and I are talking about trying for baby number two towards the end of the summer and I want most of this weight off and to have a regular exercise schedule down. So keep your *fingers crossed* that I can make that far.
I've done a few scrapbook pages the past couple of weeks.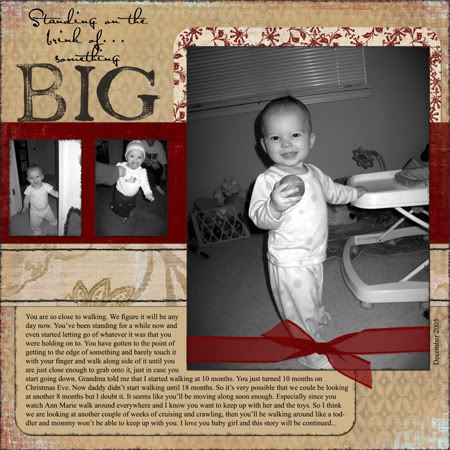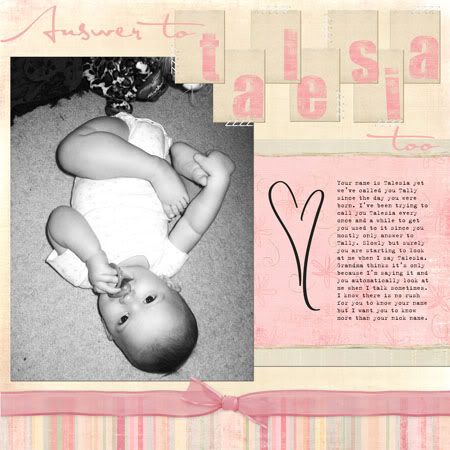 I probably should start posting who the kits are from but not to many digital scrapbookers look at my blog so eventually I might start giving credits but for now if you want to know where I got the digital kits I used in a layout, email me and I'll let you know.
Today I went to playgroup after not going to one since November. It was nice, met the new SAHD that may be joining our group. He has a sweet 16month old DD that is just adorable. Then afterwards went to lunch at Cheddars and had a salad and Tortilla soup (which btw is the best I've had at a restaurant, cause my rocks too) Then Misty and I went for a walk, whew I am soooo out of shape. Hopefully we can keep this up and on days we don't see eachother I can walk around the neighborhood. Need to fit in time to see my XBOX girl Maya. It's hard right now since Tally is in that almost walking clingy stage. If I could only get myself away from the computer at night when Matt is home. LOL
Ok I'm off for now but I am going to try something new, at least during the week, I am going to become a weekday blogger. We'll see if I can keep it up ;) So see you tomorrow! Have a great day.