Is everyone ready for Thanksgiving tomorrow? I am! It's not at my house this year, I talked my mom into hosting it. LOL So all I have to do is put together a veggie tray and bake a pie. Works for me. My grandma's male "friend" isn't going to be able to make it after all. So she will be staying with my parents. My uncle asked if she would like to have Thanksgiving at his house and get this, my grandma told him that she is going up to see "Her great grand-daughter walk" LOL I highly doubt Tally is going to start walking tomorrow or in the next couple of days while my grandmother is here. She may be in a month but I doubt this week. I'm getting excited about my trip next month. I am so ready to meet my friend and I guess see my family too. hehehe (shhh... don't tell them) Not that much longer, it's sneaking up on us.
So Tally had another cold this past week. She is still a little runny but it's slowly going away. Her next doctors appt is on the 28th (next Monday) I can't wait to see how big she has gotten. Since she was sick all last week, we were stuck in the house. No playdates. It was driving me crazy. Sunday was my first mno (moms night out) and we met up at Starbucks since the Purple Glaze pottery was closed that night. A couple of us ladies stayed until close that night. They started turning the lights out on us. LOL I had fun though. Then on Monday I went to see Misty, so I could paper scrap and let Tally play with her daughter. On the way I got hit by a semi, YES a semi. Obviously we are fine and my car isn't to damaged, he just barely side swiped me. I have a dent on the back right of my truck. He didn't even know he hit me but luckily I at the light I was able to write down all of the info on his truck and call them. They are due to call me anyday about my claim. I'll keep you posted on how that goes.
As you can see from my new look, Matt took our Christmas pictures this past weekend. Brought my mom along to get Tally to smile at the camera and then she ended up wearing a red sweater too so we took some pics of her as well with Tally. I made my
Christmas cards
. I love the way they turned out. They are 4x8 and I've already ordered them from WinkFlash. They were sent out this morning, So I should receive them by next week. I made a page with a few of the pics for
Ginas
Sketch Challenge at
The Digi Chick
.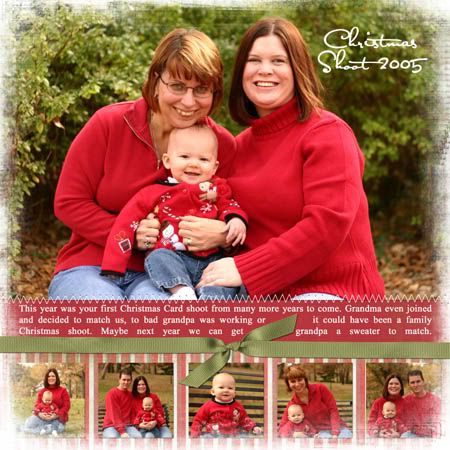 Weight loss has been coming a little slow lately. Haven't been pushing myself like I should be. I am hoping to get back on track after Thanksgiving. I am going to try and work on that. My mini goal right now is to at least lose another 5 lbs by the new year. We'll see if that's possible.
Tally is being a little clingy plus I don't have much more to say, so I'll leave you with a couple of pages.