So first I figured I would do a getting to know your friends that was on
Suzanne's
blog.
1. Egg Nog or Hot Chocolate? I used to like Egg Nog but not anymore, now it's hot chocolate all the way!
2. Does Santa wrap presents or just sit them under the tree? Right now he wraps them. I'm still in the process of thinking about new traditions for our family. ;)
3. Colored lights or white on tree/house ? White
4. Do you hang mistletoe? Not usually, every once in a while we get some.
5. When do you put your decorations up? Usually the weekend after Thanksgiving
6. What is your favorite holiday dish (excluding dessert)? Green Bean Casserole house here. lol
7. Favorite holiday memory as a child? Christmas at my nana's when she was still alive, the whole family would get together. Not so much anymore...
8. When and how did you learn the truth about Santa? Seriously I don't remember!
9. Do you open a gift on Christmas Eve? Yes! Another thing I'm thinking about starting a new tradition with.
10. How do you decorate your Christmas Tree? Usually Matt helps me with the lights and ornaments, I'm hoping to make it a family thing when Tally gets old enough to help.
11. Snow… love it or dread it? Love it, as long as I don't have to drive!
12. Do you know how to ice skate? Yes
13. Do you remember your favorite gift? No
14. What's the most important thing about the holidays for you? Spending time with my family
15. What is your favorite holiday dessert? My nana's coconut balls, that my mom makes now!
16. What is your favorite holiday tradition? Working on making new traditions
17. What tops your tree? A bow, would like a nice angel one day also!
18. Which do you prefer giving or receiving? Giving
19. Favorite Christmas Song? Carol Of The Bells
20. Favorite Flavor of Candy Canes? Peppermint!
Ok, if you want to do that's fine if not... that's ok ;)
So, you know how I said I was going to wrap gifts last week... still haven't done it! I am so bad! Still waiting on my
magnet calendars
and on my Christmas photocards to come in from Winkflash, it's been a week. I'm hoping they don't have to much of a delay. I got my calendars in for my inlaws, they turned out pretty good. Only thing we didn't really like was how November came out to red on our picture. Excuse the bad pictures of them... it's my point & shoot. lol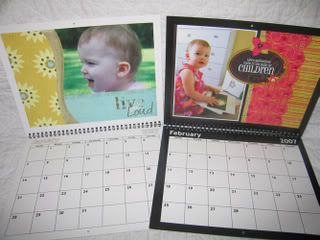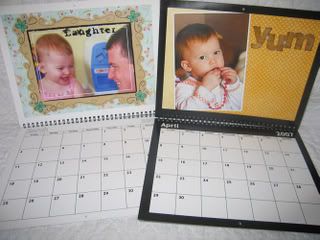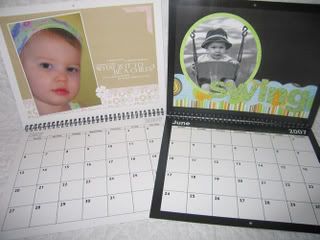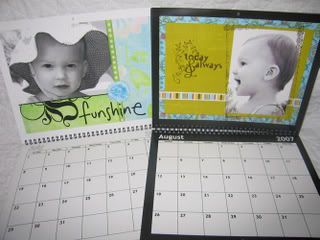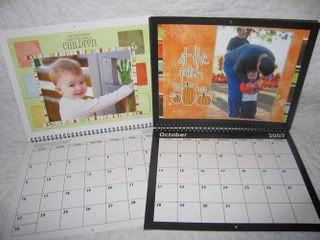 We still have snow on the ground but it's slowly melting. Tally didn't really care for it so I didn't get many pictures like I wanted. The ones I did get were crappy. Should have used Matt's camera. ;)
Few pages using Atomic Cupcakes stuff... Not my best work but they turned out ok!
Then we have one here that I used with Mindy Terasawas Lil Trouble Maker kit...
I think that's all for today! Going to get started on cleaning up my office, we are about to move my craft desk in here and get rid of my P.O.S. desk!